JOHN CHARLES

(Gallery over 300 photos)

Whatever can someone like me say about this wonderful Gentleman who was also a Fabulous Footballer.
Through my friendship with Harold Williams another Great Welsh footballer I was fortunate enough to be friendly with Big John,
who, to put it simply, was my "Football Hero".
Enjoy my vast collection of Big John stuff.


The excellent Book
,
'Leeds United a Complete Record'
,
lists
John Charles as follows: Centre Half/Centre Forward. Born Swansea,27 December, 1931.Debut v Blackburn Rovers (a) Division Two, 23 April1949 Drew 0-0. Six feet one and a half inches tall, 13st 12lb. (1957) John Charles was the greatest Leeds United player outside the Revie era and he made an enormous impact after being signed on his sixteenth birthday, by Major Buckley, within three months he had made his league debut and at 18 years and 71 days old became the youngest ever Welsh International player when he won the first of thirty eight full caps. Despite his awesome physique, he earned the tag, 'Gentle Giant', As a centre half vitually nobody could beat him in the air and when he switched to attack responded magnificently. In 1953-54 he scored 42 league goals to set a new United seasonal record. Pressure to sell Charles for vast suns was enormous and the board finally gave way when Juventus offered a world record £65,000 in May 1957. Critics said Charles would struggle in ultra-defensive Italian football but he became an idol there. He won three Italian championship medals, an Italian cup medal, played for the Italian League and was Italy's footballer of the year. He enhanced his reputation still further as Wales reached the quarter finals of the 1958 World Cup. After 108 goals for juventus he returned to Leeds in August 1962, in a £53,000 transfer. Charles was not the same player as the fans of the 1950's had worshipped and, after only 11 League games, United reaped a quick profit when Roma made a £70,000 bid in October 1962. In Auguat 1963, Charles nearing his 32nd birthday, joined Cardiff and was still good enough to play for Wales. In 1966 he became Hereford United's player manager and helped lay some of the foundations of their successful bid for League status. After spells on the Swansea coaching staff and as manager of Merthyr, he returned to Yorkshire to become a publican. In 1987 he was technical director to Hamilton Steelers in the Canadian Soccer League. Alas, Charles fell on hard times but enjoyed a joint benefit with Bobby Collins when Leeds played Everton in April 1988. He ran a pub, then a toyshop and children's clothes shop. His brother, Mel Charles (Swansea, Arsenal, and Cardiff) and nephew Jeremy (Swansea, Queens Park Rangers and Oxford) also played for Wales. League Appearances at Leeds 308, Goals 153. Cop appearances 19 Goals 4.
John Charles an early portrait
John Charles returns to Leeds 1963
John Charles on the training ground
John Charles early 1950's

Front Cover Leeds United Programme 1949-50 Season
John Charles on the treatment table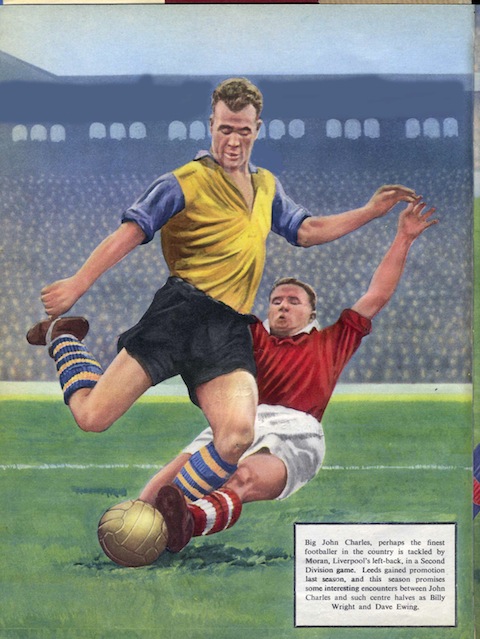 Leeds United v Everton 1957


TO VIEW 300 PICTURES OF JOHN CHARLES
SOME UNIQUE CLICK ON THE LINK BELOW.
http://photobucket.com/johncharlesgallery


TO VIEW THE JOHN CHARLES MEMORIAL
CLICK ON THE LINK BELOW
http://photobucket.com/kingjohnmemorial